Who doesn't love a good party?
Consider creating a fun winter-themed party for your preschool classroom. Need ideas for the perfect winter treats to enjoy at your party? We have collected a few ideas that we think your preschoolers will love.
Yummy Winter Treat Ideas
What great winter party is complete without delicious holiday-themed food? Hot chocolate with mini marshmallows is always a delicious option. Here are some other ideas to consider:
Snowman Snacks
Have fun with this recipe! You can adapt the design based on the snowman or snowwoman your class is familar with. You could create an Olaf, a Frosty, or your own version.
What you need:
What you do:
Cover the graham crackers in the frosting.

Create snowmen out of the marshmallows and candy.

Stick them on the iced graham crackers.
Melted Snowman Cookies
(adapted from SheKnows Chef Mom)
Depending on how much time you have, you can make these sugar cookies from scratch, use packaged cookie dough you can pop in the oven, or buy non-iced, pre-made sugar cookies from the store.
What you need: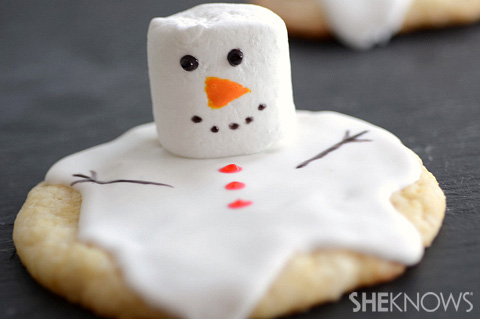 What you do:
Draw an outline of the body of melting snowman and fill it in with white icing.

Put one marshmallow on top of each cookie.

Use the black gel to make two eyes and a mouth on the marshmallow, then add two arms on the icing.

Use the orange gel to create the snowman's carrot nose.

Press the small, red candies in the icing to create the snowman's buttons.
Love these recipe ideas? Join ProSolutions's Training's child care training monthly newsletter to receive information articles, recipe and activity ideas, and course specials each month.