0
‹‹ Return to all Child Growth & Development resources
A Language Explosion
We are in the midst of a language explosion with Walker and it has been so much fun hearing him start to talk and express himself with words instead of screams! He is saying new words every day, but let me back up and talk a little about his hearing and language development journey.
In early November of 2015 when Walker was about five months old, he got his first nasty cold and double ear infection. It cleared up quickly with a round of antibiotics. Less than two weeks later, he was diagnosed with RSV (a respiratory infection) and another double ear infection. After 10 days on antibiotics, he seemed perfectly happy and healthy until we went in for his six month well-check and discovered that both ears were still infected. On we went to a third antibiotic, each one stronger than the last. The infection finally cleared up, but we could never get rid of the lingering fluid in his ears. This meant that every time he got a little congestion, it would result in another infection since the fluid was unable to drain. In late December, we were at the doctor again with, you guessed it, another ear infection. We were to do 10 days of a fourth antibiotic and come back in two weeks for a re-check. As usual, he seemed to improve quickly, but the afternoon before his scheduled re-check, he woke up from his afternoon nap with lots of congestion, drainage, fever, and fussiness. I just knew he had yet another ear infection, and I was right.
We went through the exact same experience with Wilson – so identical it's almost hard to believe. He was eventually referred to an ENT, got tubes, and didn't have a sick visit for two years. Given this experience, I've gotten pretty good at knowing when my kids have ear infections. With Walker, I started asking about an ENT referral when he had the third ear infection because I knew the path we were on. Unfortunately, there must be a specific pattern and frequency to the ear infections before you earn your ticket to the ENT and he had not yet reached that point.
Finally, at the end of January, after five back-to-back infections, we were referred to the same ENT who did Wilson's tubes. They conducted a hearing test which Walker failed, took one look at his ears that were still filled with fluid, and scheduled surgery for later in the week. On February 4th, we went in for the 10 minute procedure that has made all the difference.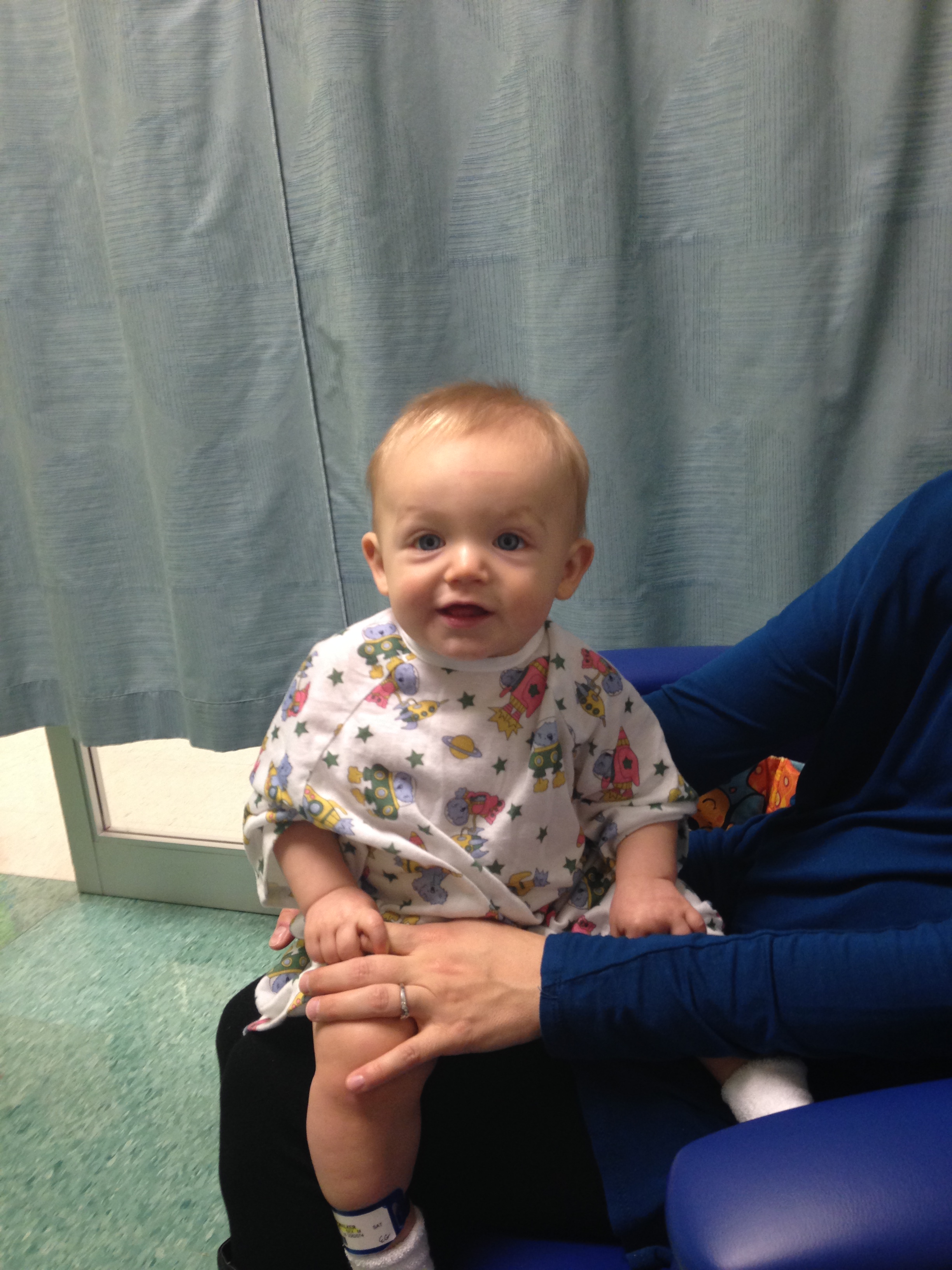 Before getting tubes, Walker babbled all the time but he made very few distinct consonant sounds. He wasn't behind at all with his language development, but had the ear infections and difficulty hearing continued, his language development would have suffered greatly. Because his ears were constantly filled with infection and fluid, he couldn't hear sounds clearly. Our doctor likened his hearing to the way a voice sounds when you are swimming under water. A few hours after his surgery, he would look at us with a look of amazement on his face as if he had never clearly heard our voices. It was heartbreaking, but we were so happy to see a light at the end of the tunnel. Within days, he said "Dada," then "Mama" and now he is saying and repeating new words every day. His new favorite is "NO!"
Click the picture below for a short clip of Walker saying his favorite word!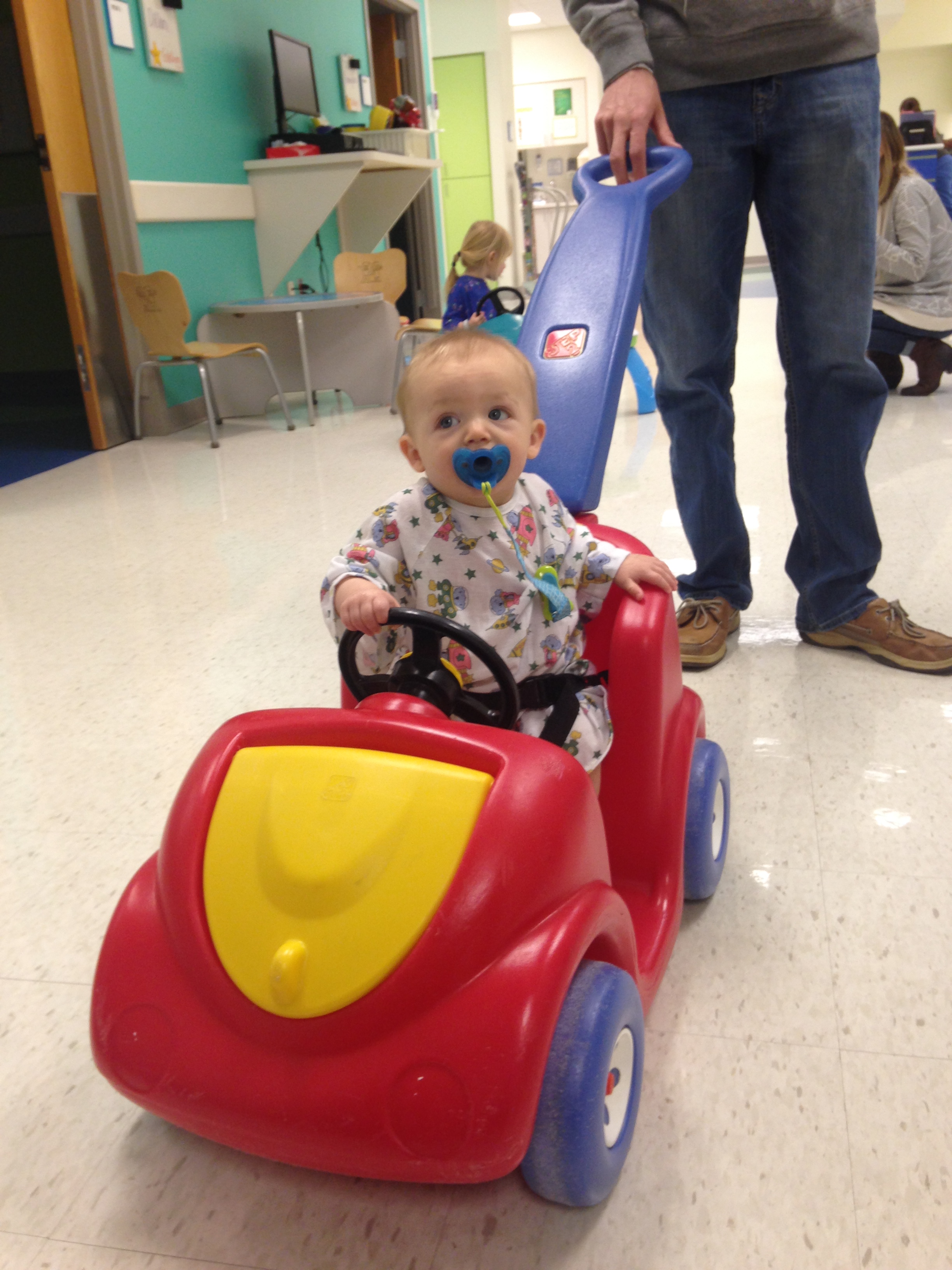 In the grand scheme of things, chronic ear infections are minor compared to the serious medical problems so many kids face. However, the language and learning impairments kids may face when ear infections go untreated can last a lifetime. I encourage you to be an advocate for young children. If you suspect a child is having trouble hearing or your child is suffering from chronic ear infections, make sure they are evaluated by a doctor and seek treatment. Surgery may not be the answer for every kid, but many language delays are reversible and preventable with the proper treatment. It has made all the difference for my boys.